Book Review: The Blood of Whisperers, by Devin Madson
Book Review: "The Blood of Whisperers" by Devin Madson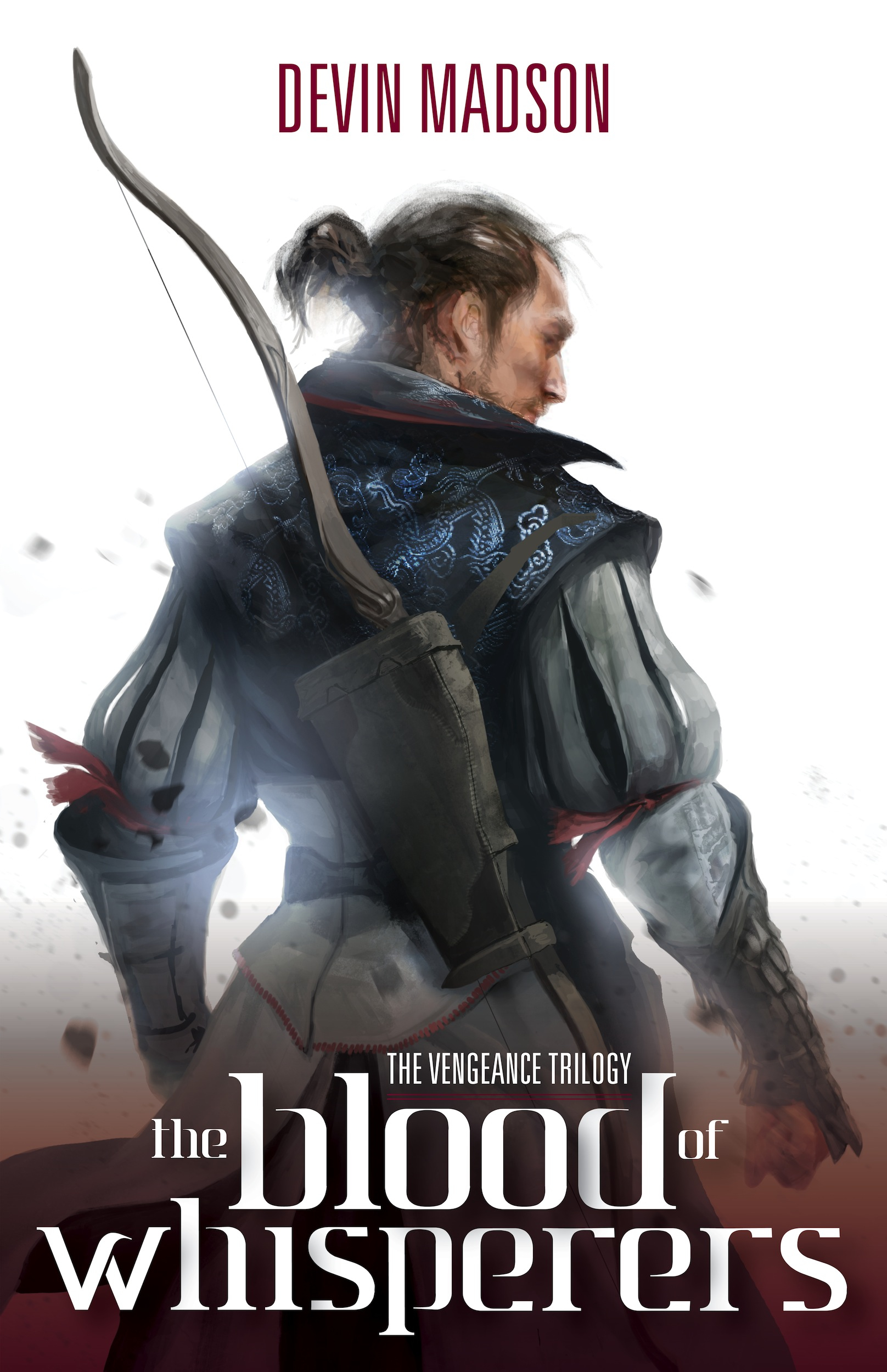 The Blood of Whisperers"  by Devin Madson is a fine example of why I love reading books by debut authors. It's a risky thing to go into a book knowing so little about the title, but I read up on the indie publisher, Cloudburst Books, and was impressed by how professionally they've handled this, their debut release. With an amazing cover and an intriguing back-cover synopsis, I went in blind. This often leads to some terrible reading and more grammatical errors than I dare speak of, but I was pleasantly surprised to discover yet another solid debut from an author that I now count myself as a fan of.
This book is the first in the Vengeance Trilogy, which is also the title for a trilogy of Korean films by one of my favorite directors, Park Chan-Wook. While the stories are unrelated and the time-period is significantly different, they shared the same soul; both are about people who have been wronged and pushed to do whatever is necessary to make those responsible for something pay. Regaining former glory and honor comes second to their desire to inflict pain and vengeance.  As the Chinese proverb states, "Before you embark on a journey of revenge, dig two graves."
The stories protagonist role is shared reasonably equally amongst Endymion, Hana and a man known as the Monarch. Each of these characters motives are distinctly different, but they all share a birth claim to a throne that is currently held by the usurper and former General, Emperor Kin. Eventually all of their paths intertwine due to the hand of Malice, a man, and Empath, whose name more than befits his character.
Endymion is an Empath struggling to find out who he is, and gets tied into a political rebellion through his desire for revenge on Darius, a man who deprives him of this knowledge and casts him out as a traitor. You're probably wondering what an Empath is now, and so was I. What powers this entail is not made entirely evident for much of the story, and even once the book was completed I felt as though there was still much to learn about them. This mystery was actually quite enjoyable, as readers discover this gift with Endymion. In a nutshell though, Empaths have the ability to read emotions and memories in other people by being in close proximity or touching them. Through these emotions, they can also induce pain.
Hana's character was one of the most versatile, as she is a woman in a society that views women as secondary to the will of men. Her forward thinking and tough life have hardened her to become a competent and ambitious lady with her own desire to sit the throne and claim her families' rightful place upon the crimson throne. She possesses a strong moral compass and more than holds her own in a fight, which made her a very likable and easy character to root for.
The Monarch is an interesting character, and one I would love to talk more about than I will. He's the leader of the rebellion to overthrow Emperor Kin, and a charismatic and brutal warrior who will do any and all things necessary to attain his goal, including allying himself with Malice. He and Malice are definitely the piece movers of the novel, and because of that they are the hardest to talk about without providing spoilers. Suffice to say, this novel only scratches the surface of their character and I look forward to discover more about their path in book two.
Despite all of these interesting characters being bound to collide in a gritty blood bath, I was surprised at the lack of violent confrontation in this novel. Normally this would be something that would bother me, but the use of description and details, along with the political cogs and intrigue of the story, I found myself thoroughly enjoying the story for what it was, a story. This novel rides on the back of great characterization and beautiful world building. In book two I suspect the gauntlet will be thrown down, and I suspect I will be extremely grateful for the attachments that the characters have forged with me as a reader.
This is a wonderfully realistic and gritty world that is exploding with potential. The story is complete and satisfying, yet it's also evident that we've seen but a small piece of a much larger tale. I would best describe her work as a darker version of the international best-selling Tales of the Otori series by Lian Hearn; this is praise that I do not give lightly, as she is a personal favorite of mine.